About Jessica W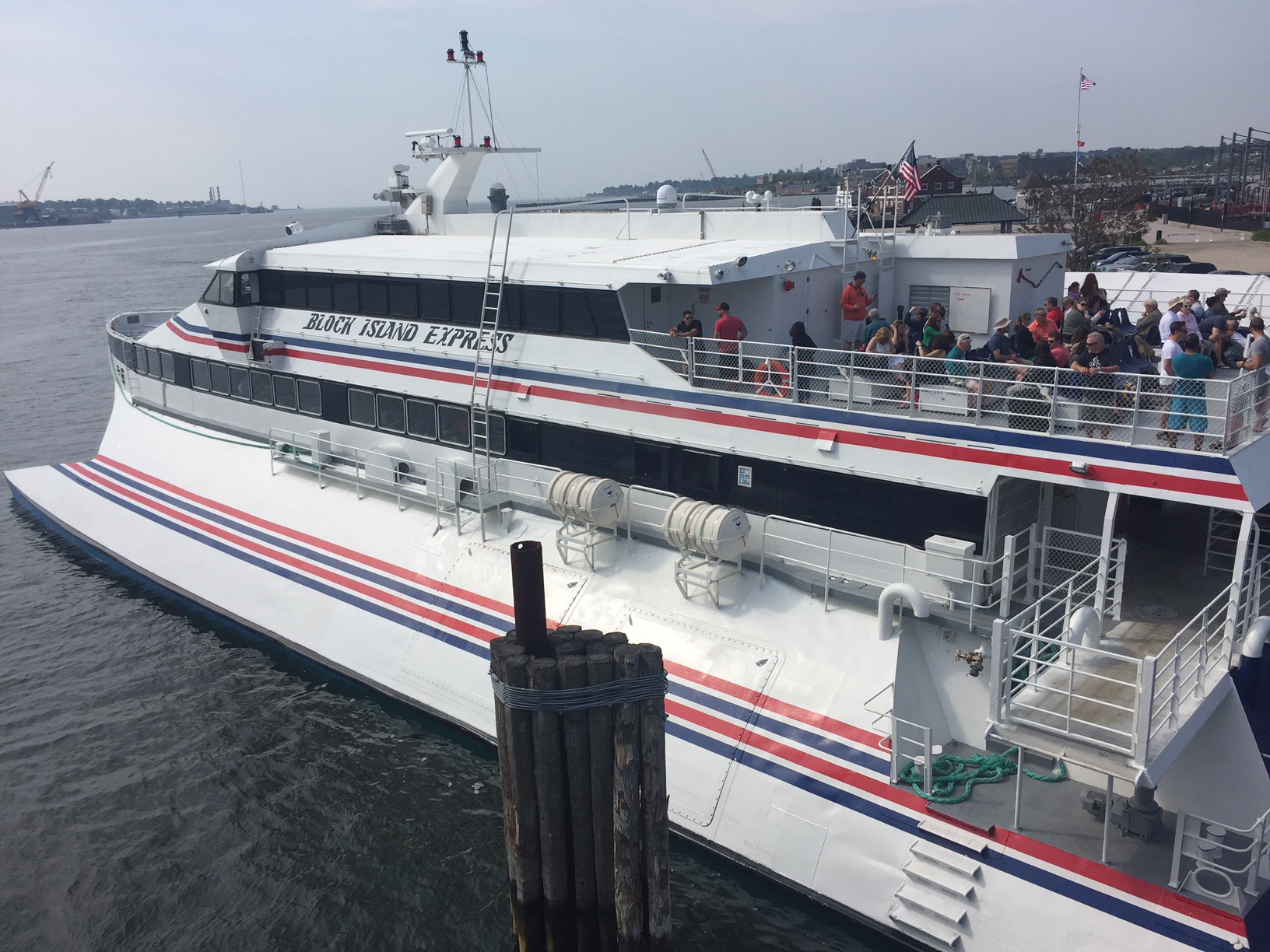 As the fastest ferry between Block Island and the mainland, the Jessica W has a cruising speed of more than 35 knots (40 mph) and is equipped with comfortable, modern airline-style seating on two enclosed air-conditioned passenger decks. For those who prefer the great outdoors, an outside passenger deck is available for viewing the scenery on the trip between New London and Block Island. Other passenger amenities include a satellite television entertainment system, culinary offerings that include homemade pastries, personal pizzas, hot soft pretzels, other snack options along with and a selection of craft beers, wine, and specialty cocktails including Cross Sound Deli's famous Bloody Mary.
At approximately 160 feet (49 meters) in length, the Jessica W is a wave-piercing catamaran equipped with a state-of-the-art motion control system that incorporates patented T-Foils and Interceptors from Maritime Dynamics to ensure smooth travel in all sea conditions.
The Jessica W was repowered in 2014 with new Caterpillar high-speed diesel engines that are certified to EPA Tier 3 emissions standards making the vessel more efficient, with lower emissions, fuel savings and lessening the vessel's overall carbon footprint. With this repowering, the vessel has performed incredibly well with less vibration making for a smoother and quieter ride while improving overall passenger comfort.
Built in 1990 and introduced into service in 1991 on the United Kingdom to Channel Islands service under the name Condor 9, it was renamed when purchased by Block Island Express and honors Jessica Wronowski, who co-owns BIFS with her brother, Adam Wronowski.
About Sea Jet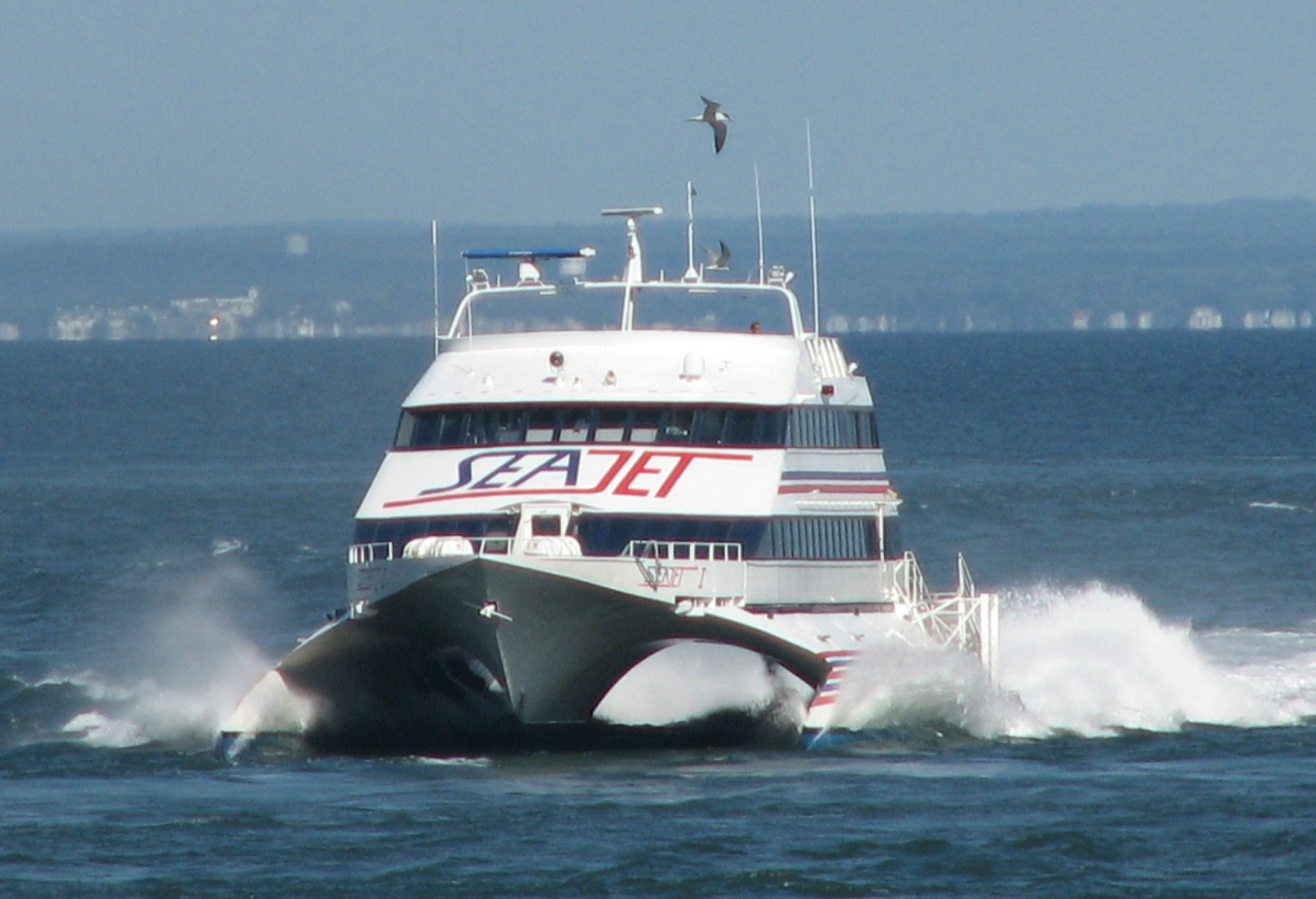 The first high-speed passenger ferry added to the fleet. Its patented Wave Piercing Catamaran design and upgraded ride control system ensure a high level of passenger comfort in all sea conditions. Built by Nichols Brothers Shipyard in the state of Washington, the Australian designed InCat once served as part of a Hawaiian inter-island commuter service and dinner cruise boat. After service between the California coast and Catalina Island, Cross Sound acquired the vessel in 1995, where it has served reliably ever since between New London and Orient Point as well as seasonal service between New London and Block Island. In 2015, the vessel was put into service as a lighthouse cruise excursion vessel offering two hour sightseeing tours of the region's lighthouses narrated by local experts as to the history and significance of these iconic structures. A gift shop offering specialty items themed to our lighthouse cruises and the ferry services is available onboard. The Sea Jet is powered with Caterpillar 3512 CHD high-speed diesel engines certified to Environmental Protection Agency (EPA) Tier 2 emissions standards and recent cabin refurbishments have improved passenger comfort during the crossing.
About Cecelia Ann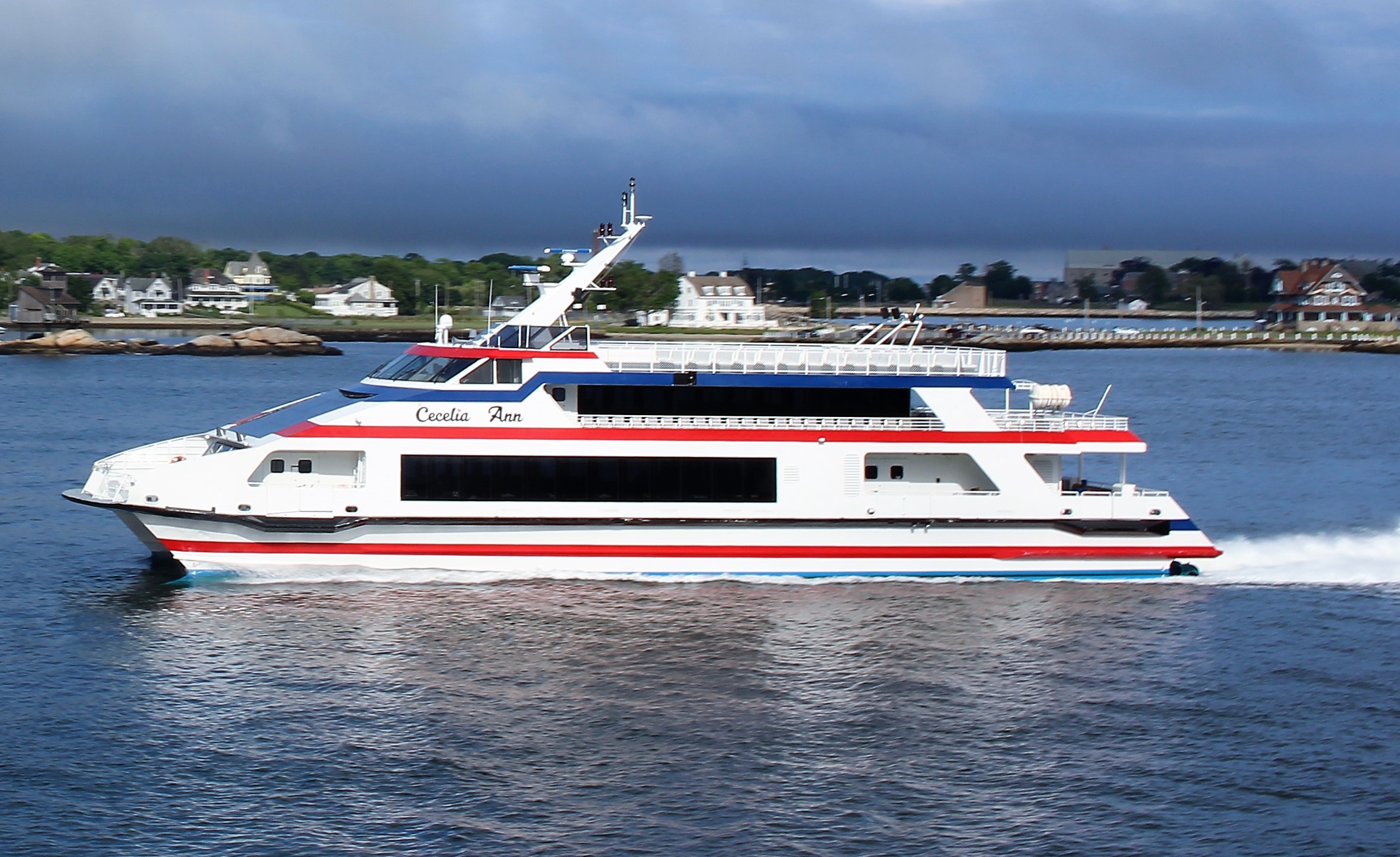 The CECELIA ANN, our newest member of the fleet, is a 43.5-meter (143 feet) Catamaran built by Austal shipyard in Mobile, Alabama in 2003. The vessel, originally named ZEPHYR, first operated in and around the waters of New York City where it joined the fleet of Circle Line-Statue of Liberty Ferry, Inc. and transported passengers each day to the Statue of Liberty and Ellis Island. The vessel also served as a nighttime entertainment venue cruising around lower Manhattan. Acquired by Cross Sound Ferry in 2017 and renamed the CECELIA ANN for Adam and Jenny Wronowski's daughter, the vessel has two climate-controlled, comfortably appointed interior passenger cabins in addition to a full outdoor sundeck and other outdoor viewing space. The interior cabins include panoramic windows to enhance your viewing experience. The vessel has a capacity of 600 passengers and cruises at speeds up to 30 knots. The addition of a Naiad Dynamics computer-controlled ride control system enhances passenger comfort. Other passenger amenities include full Cross Sound Deli snack bar with culinary offerings in addition to signature cocktails and craft beers. A gift shop offering specialty items themed to our lighthouse cruises and the ferry services is available onboard. The vessel will primarily perform lighthouse cruises for Cross Sound Cruises in addition to duty on the ferry services' other routes, which include New London – Orient Point, Long Island and service between New London and Block Island.